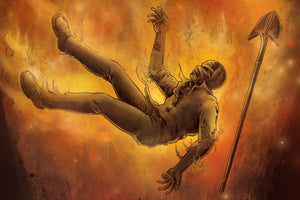 DEATH DOESN'T DESERVE ME #2
New issue coming June 2024! The ongoing comic series inspired by the Love Story's End album of the same name receives a new installment soon. Check back for sneak peaks and updates on the second AND third issue progress. War Tribe Comics horror series are recommended for mature readers.
Sign Up Today
Join our mailing list for updates direct to your inbox!
Featured Comic: DEATH DOESN'T DESERVE ME
No longer human, a soulless vessel aimlessly roams the quiet woods of Mississippi. With an uncontrollable urge to kill, "The Harvester" feeds victim after victim to the forest that holds him captive.